Shaken to my Core
If you knew me in my young years, you know that I could have been the Dairy Poster Child. I grew up on a family dairy farm. Once I left the farm, it seemed that there was nothing to talk about but cows. There was nothing like a tall glass of fresh milk right from the bulk tank. It's what I missed the most, I think. It took me a while to get past the taste of pasteurized milk and I didn't dare drink 2% milk. When I visited a friend's home, they offered milk, I would ask, "Is it whole milk?"
So when I learned that I have osteoporosis. It was quite a shock to me. For a day or two, I really could not grasp how it could be that my bones are not strong; that I was at risk for fractures and breakage. Adding this to all my other diagnoses was more than I could bear. Like David, I cried out to God, "How long, oh Lord? I can't take any more problems. Please no more pain."
God Speaks
Since I had morning appointments that day, I didn't get to sit down with the Lord until that afternoon. (Maybe that is why I was so shaken… I had not invited Him into my day yet.) Anyway, God began giving me messages all day. As I did my study with Gracefully Truthful, He said to me, "I will not leave you as an orphan. I will come to you." (John 14:18) Thank you, Lord, for this reassurance. I began singing this song the rest of the day.
Encouragement from Friends
"Gracious words are a honeycomb, sweet to the soul and healing to the bones"

Proverbs 16:24 NIV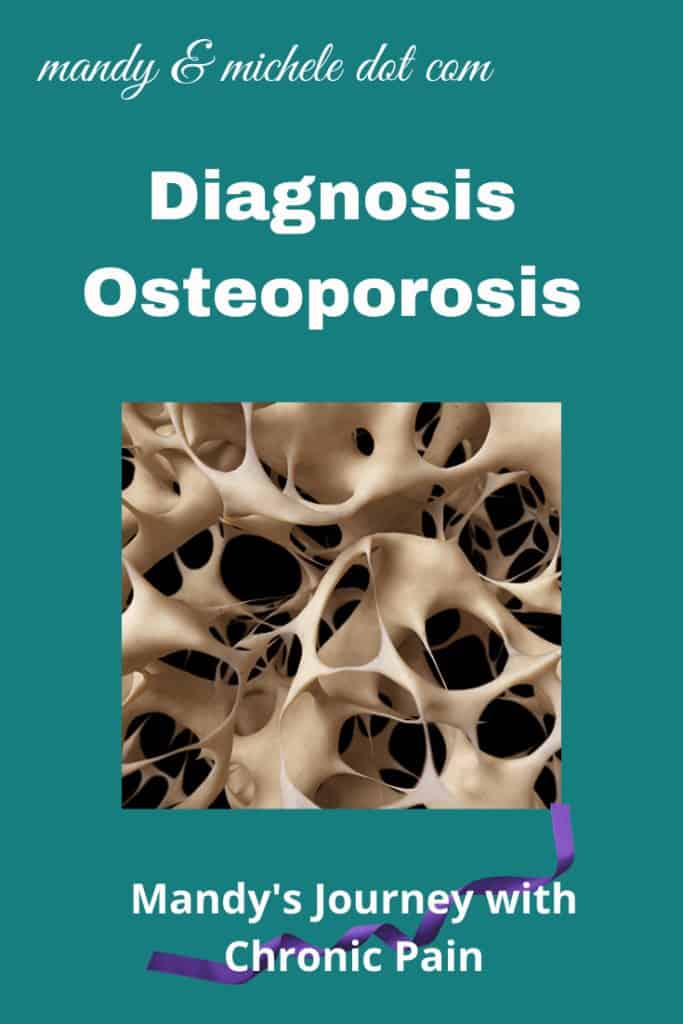 They may have not known that what they shared was for me, but it was. All through the day, I received gracious words just at the right time. Have you ever seen a cross-section of a bone? It's like a honeycomb. Unless you have osteoporosis… then it's more like swiss cheese. See National Osteoporosis Foundation
The words of my friends were like a honeycomb, sweet to the soul and healing to the bones. Friends offered up prayers. Sometimes it was just sharing a quote or scripture. They had no idea that God inspired them to share it for my purpose. That night my dear friend at Alabaster Girls post this prayer.
Father, I am loved by You, an extraordinary God, a good, good Father. Your love makes life worth living. Because of You I don't have to be afraid of tomorrow.

You are my peace.

Thank You for Your grace that truly is sufficient to carry me through the difficult places. I don't like the difficult places, Lord — You know that. And yet I find You there. You draw near and strengthen me. You pour out Your love on me and it quiets me, giving me strength.Help me keep my eyes on You, Lord.

In Your presence I find joy, courage, and the tenacity I need to keep moving forward.

Bless You, Lord. What a wonderful God You are.

In the Name of Jesus I pray, amen.

Nan Trammel Jones, The Alabaster Girls
But I Still Tossed and Turned for Many Nights
All these things and more I have known since my youth. I know that God will not abandon me. I know He will see me through. But I am tired and my pain has been unbearable lately. Just the pain alone was waking me up and then my mind would start running away wondering what would happen next.
One of the girls from The Alabaster Girls group had friended me earlier that week but I was not "in the mood" to talk with a new person. She was from halfway around the world. And I wasn't sure of her connection to me at that point. She kept gently prodding me to respond to her. But I like being the encourager and I didn't have it in me to chat with someone new. Then she sent an audio clip… She sang "Pass me not, oh gentle Savior, Hear my humble cry. While on others thou art calling, do not pass me by." And tears came to my eyes. It was my prayer. We chatted and I shared a bit of my story. She promised to pray for me.
Preaching to myself
On the second day, I saw the writing prompt for Five Minute Fridays – "STRONG". I wondered, "Could I write about strong bones when it was so raw to me?" In the past, I have looked through my old posts to see if there was anything I could update and share. And there it was "When I am weak, He is Strong". As part of that post, I shared an old hymn written by Annie Johnson Flint. I didn't know it then, but Annie was orphaned as a child, and by her teens suffered severe arthritis and was soon wheelchair-bound. I'm learning more and more that it is those who go through great trials that have the most beautiful poetry and songs. Do you know her hymn, He Giveth More Grace". That's the grace God is giving me.
When we have exhausted our store of endurance

When our strength has failed ere the day is half done

when we reach the end of our hoarded resources

Our Father's full giving is only begun

He GIveth More Grace, Annie Johnson Flint
I Will Not be Shaken
Finally, I stumbled on this scripture which woke me up to realize that God has got this. I do not need to be shaken. It is quite appropriate with words like: "even at night", "my thoughts trouble me", "I will not be shaken", "my whole being rejoices", "my body rests securely", "You will not abandon me", "You will not allow your faithful one to see decay".
7 I will bless the Lord who counsels me—
even at night when my thoughts trouble me.
8 I always let the Lord guide me.
Because he is at my right hand,
I will not be shaken.

9 Therefore my heart is glad
and my whole being rejoices;
my body also rests securely.
10 For you will not abandon me to Sheol;
you will not allow your faithful one to see decay.
11 You reveal the path of life to me;
in your presence is abundant joy;
at your right hand are eternal pleasures.

Psalm 16:7-8
I Need to Memorize This Verse and Quote it in my Bed at Night
Interesting that just last year, verse 11 was my verse for the year. I should have read more of the context, eh?
A Word For You
Don't allow the old devil to get you shaken. Let's keep our eyes on Jesus for in His presence we have abundant joy!
–Mandy
Pastor's Wife (retired) &  Chronic Pain Warrior blogs about how to make it through anything by relating her own life experiences to her writing. She is passionate about her love for the Lord and desires to spread that passion to others. She has a great desire to encourage women who are following behind her.