Question: What medications do you use for fibromyalgia?
RE: Fibro Medications
Savella
Thankfully, Savella has been my "savior" in medications. I have been using the full amount allowed of the drug Savella for fibromyalgia for 9 years now. Savella is the only medication created expressly for the pain of fibromyalgia. It works a lot like an anti-depressant, but it is not used for that purpose. It is a relatively new drug and expensive. Most insurance companies are reluctant to fill prescriptions without your doctor's intervention. They want you to try medications such as Lyrica and Cymbalta first, which I have done with no help.
I have tried them all
From the start of my serious pain issues, I have tried several different drug possibilities. At first, since we weren't sure what was wrong the doctor tried a prednisone titration pack. But as soon as I started decreasing the steroid the pain returned. We tried Tramadol with little success. Then Cymbalta which did nothing for me. Neurontin was next but really had no effect. I continued on the large dose of prednisone and occasional Tramadol but this wasn't all that beneficial.
Finally, after six months, I received an appointment with Mayo Clinic. I spent several days having tests and seeing different doctors. The Rheumatologist gave me the diagnosis Central Sensitivity Syndrome with indications of fibromyalgia, myofascial pain syndrome, and chronic pain syndrome. Yep! I have lots of different kinds of pain. This doctor prescribed Savella and I have been taking it ever since.
It's taken all these 9 years but I just recently eased my way completely off of prednisone!
– Mandy Farmer
~~~~~~~~~
May 12 is Fibromyalgia Awareness Day
Several of my Pain warrior friends have conglomerated together to write posts on medication we have had success taking and/or other tips that help us manage our pain. Below you will find a wonderful list.
Discussion on Medications
Shelley Clark Smith – The Chronic Mom
Excellent post discussing all the different medication options, Cymbalta, Lyrica, Savella, and more
Donna Gregory – Fed Up With Fatigue
I know all of us react differently, but these are the fibromyalgia treatments I've found most beneficial since my diagnosis in 2014:
• Low-dose naltrexone (LDN) – LDN is one of the only pharmaceuticals that has ever improved my chronic pain and other symptoms. Based on small studies, LDN outperforms all three fibromyalgia medications approved by the FDA.• Medical cannabis – I could not sleep without medical cannabis, and it's been a huge lifesaver as I've struggled with chronic daily headaches. Does it eliminate the pain? No, not exactly. It just makes the pain more tolerable.
• Infrared sauna – I've never regretted purchasing my infrared sauna. It helps immensely with that all-over achy feeling, and it's heaven in the winter when it's so cold that my bones hurt.
• Magnesium – I use magnesium both topically and orally. Topically, it helps to reduce overall achiness, leg/foot cramps, and restless legs. I also take a magnesium glycinate supplement, which improves all of the previously mentioned issues and keeps me regular!
~~~~~~~~~~~~~~~~~~~~~~~~~~
Tips for Fibro From a Fibro Coach
Sue Ingebretson – Rebuilding Wellness
ONE: Drink enough water to adequately hydrate your body.
TWO: Use topical/internal products for temporary/supplemental relief (herbal remedies, oils, rubs, supplements, etc.).
THREE: Reduce your body's natural tendency to stay stuck in the fight/flight/freeze response with a deep breathing RESET (help to restore/balance your body's autonomic nervous system – ANS – response)
FOUR: Get outside. Nature Walk. Move your body in ways that feel comfortable and healing to you – body movement, fitness, detoxification, etc.
~~~~~~~~~~~~
Tips for Fibro from other Fibro Warrior Friends
Unfortunately, most cannot afford medications or have little success using them. I am providing some tip teasers and links for you to follow.
Carrie offers some great ideas on her post including 1) Minimize Stress 2) Balance work and Life 3) Be Creative … Carrie has interviewed on my blog. Click here to see her creative work.
Glynnis Robin Hicks – The Sacrificial Home Body
In trying to come to terms with my sore hands and lack of energy with my fibromyalgia, I have come up with some new tricks to help in cooking meals.
LeeRoy Good – Fibro Files
Here are my top three tips for coping with Fibromyalgia in no particular order: 1- Hydrotherapy; 2- Deep uninterrupted sleep; 3 – the Mediterranean diet
*Note – Leeroy has an excellent forum of fibro bloggers. We all share our latest post every Friday here. If you haven't joined, you should do it.
Cynthia Covert – The Disabled Diva
Ways to reduce morning foot pain that are easy and won't break your bank account.
Katie Clark – Painfully Living
Bettina Bier- Me, Myself, & I
Find something to distract yourself from everything. For me it's painting, watching my favorite comedians & favorite shows. Music is good for my soul, a walk-in nature does wonders for me. Well, I have a dog, so it's time to go outside. and more…
Nikki shares three wonderful tips: 1) Mild Exercise 2) Basic Supplements 3) Relaxation
Bethan Catherine Jones – Hello Fibro
More Wonderful Tips for Fibro – 1) Listen to your body 2) Be Honest 3) Don't Give Up on Yourself
Melinda shares to provide awareness more many things including chronic pain and fibromyalgia. Her Top three tips for fibro are: 1) a good sleep self-care routine 2) Nature and 3) Time Saving
Alisha Nurse – The Invisible "F"
Fibromyalgia comes with a wide range of different symptoms which are often challenging to manage. In this post, Alisha offers three of her top tips for living with fibromyalgia.
Cynthia Cooper Baughman – My Inspired Fibro Life
Three Tips from Cynthia – 1) What you eat matters 2) Movement is important 3) Moderation is Key!
Need a Pill Box?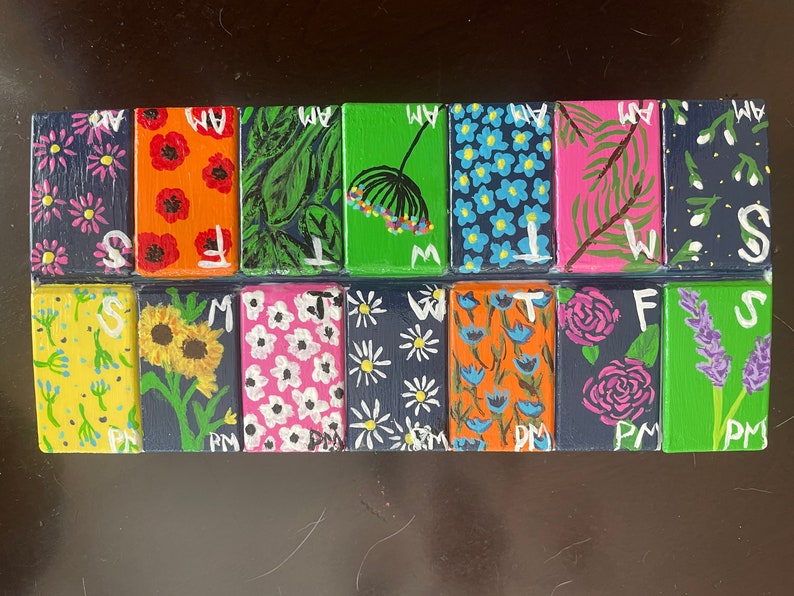 How about a pretty handmade one. All sizes are available at ECBoxes on Etsy
Thanks for Sharing,
Pastor's Wife (retired) &  Chronic Pain Warrior blogs about how to make it through anything by relating her own life experiences to her writing. She is passionate about her love for the Lord and desires to spread that passion to others. She has a great desire to encourage women who are following behind her.