This week we continue on with: My Swedish Death Cleaning Experience: Part Two….
The linen closet was by far the most fun. Sorting through all the old bedding, comforters, and sheets. I took stock of what I did need for guest beds and then I brought the rest downstairs to the giant rummage pile.
This is what I did, methodically going in and out of every room, closet, and drawer till my basement began to tell me I had enough for a rummage sale. Brad said he would give $100 to NOT have a rummage sale, but I waved him off telling him "It's the last one!"
Ready or not!
It would have been very smart to do cleaning as well. I was well into the basement before I realized and said to myself "DUH! Why aren't you cleaning too?" I guess I got so caught up in the success of the death cleaning, which really should be renamed "Swedish Death Sorting". Oh well. I was having great success, why put a rumple in it all?
I finished the upstairs by sorting through my kitchen and bathroom cupboards. Some of the items I encountered, especially in the kitchen, have a tendency to be used seasonally, as well as a great once in a while, so that made some of my decisions harder to make. I leaned towards the thought if I haven't used it in 3 years it's out! Watch, I'm gonna need it in 2 weeks.
The bathroom/laundry room cupboards didn't have too much of a haul. Mostly expired over-the-counter medications, half-used bottles of stuff I don't use anymore, and items that were displaced found their way back to their original "home". I did find an old cast for my hand, which I broke chasing the dog up the hallway. That's a story for another day.
Basement here I come
This was the final frontier in my Swedish death cleaning. I knew this was to be less work than upstairs, but I still was having a great deal of fun. I started with the box of kids' toys. Sorted through and left a smattering of toys for different ages that were in general gender-neutral. Next was the dolly box. Sorted out my Cabbage Patch Kid, clothes, bottles, and miscellaneous toy baby stuff. Left two babies, some clothes, and a bottle and put them in a storage tote.
I went to the utility room and sorted through old lawn chairs, golf clubs, kids' outdoor toys, and almost 30 years of private papers and alike. Luckily, First State Bank Southwest had the shredding truck in town. I loaded a large storage container full and with great glee brought it to the shredding truck! YAHOO!
The next stop was the fruit cellar. That proved to be a bit of a challenge. I stared for quite a bit thinking about what I should tackle first. Hmm, canning? Or, maybe coolers and lunch boxes?. Well, maybe seasonal decorations? No. Outdoor gardening stuff? Yes! So I sorted through all the plastic seedling containers I kept from having bought plants at greenhouses. Sorted through my seeds for spring planting. I got rid of a bunch of tree tubs and 5-gallon buckets. Cool!
Back away from the hunting closet
Feeling accomplished I headed into the basement entry foyer where I tackled the dresser full of caps, winter hats, mittens, scarves, and work gloves. Sorting through I kept what was necessary and what wasn't in that great of shape I threw out and the rest went to the rummage/thrift box.
The last closet left was the hunting closet and the outdoor work clothes closet. Outdoor work clothes were sorted and most of what went left for the burn pile. Onto the hunting closet, but it was here I met a bit of resistance from Brad. I was looking at his multiples of things:
Hunting boots- 3 pairs. Hmm, guys really are like girls; a different style for different occasions sometimes in the same color. Noted!
Hunting jacket/coats- S E V E R A L. Some for spring turkey hunting, some for deer hunting, some rainproof for turkey hunting, some rainproof for deer hunting. Insulated deer hunting coat. This is valuable information.
Hunting vests-4. One even had a seat pad built into it; that's interesting, hmm. Pheasant hunting vests with different types of pockets for storing dead pheasants. He better not send that through the wash!
Warm seat pads- M A N Y. I guess he learned his lesson when he sent the last one through my washing machine. It exploded in the washing machine, and then I exploded when I found he washed it. It was like "52 Pick Up", except try a million tiny ball pick up. So not funny.
Burn baby burn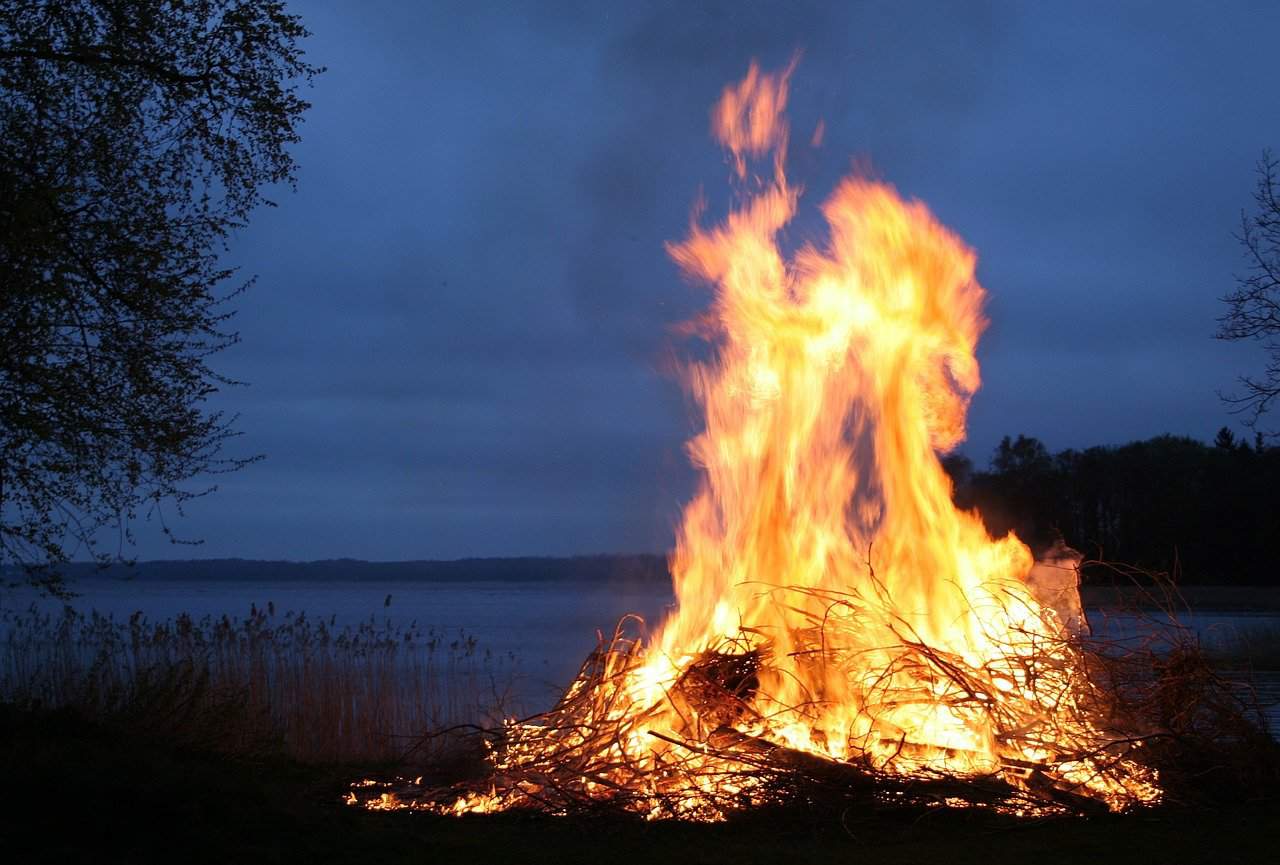 Having quite a pile to burn I knew that I had one more item that needed to be added. I grabbed our old high school yearbooks and tossed them on. There! The pile was complete. Now for a match to light the pile. With the pile lit, I felt a sense of relief watching stuff burn and letting go. Stuff that held me, that served no purpose. Stuff that clogged up my home, sometimes my heart and mind.
Memories are good to keep in your heart and mind. Having a physical item as a memory can be a blessing but it can also be a curse. It was fun to sort, to reminisce, and then to let go. People are not in the "things" we possess.
Till next time friends. Here's to Swedish death cleaning and the release you'll find in letting go of your "stuff".
Michele Bruxvoort is sure to draw you in with her delightful sense of humor and love for living life.   She enjoys reading, repurposing,  as well as remodeling the family home with her husband. Drawing from her life experience as wife, mom, and follower of Jesus, Michele brings you a very honest and real perspective on life.  When you don't find her writing, you can find her mowing lawns, stocking shelves, taking care of her grandbaby and tackling her latest life adventure.
Wisconsin native and empty-nester, she now makes her home with her husband of 27 years in the South West Prairie plains of Minnesota.