If you could go back in time and talk with anyone, with whom would you talk? #cslewis #lunchwithlewis #bookreview
Click To Tweet
My first desire would be to talk with one of my grandparents. I would love to sit on the porch swing one more time with my grandmother and, this time, talk about things that matter. I would ask her about the day she got saved. Perhaps I would ask her more questions about her life and my parent's lives. Then definitely, I would be sure to ask for a few recipes.
If I were to choose someone outside of my family, C.S. Lewis would rise to the top of my list. I would want to dig deep into his brain and understand life better. I stumbled upon a book recently that caught my interest, If I Had Lunch with C. S. Lewis: Exploring the Ideas of C. S. Lewis on the Meaning of Life, by Alister McGrath.

We may earn a small commission for our endorsement, recommendation, testimonial, and/or link to any products or services from this website. Your purchase helps support our work in bringing you spiritual encouragement and other favorite product reviews. Thank you.
A Great Conversationalist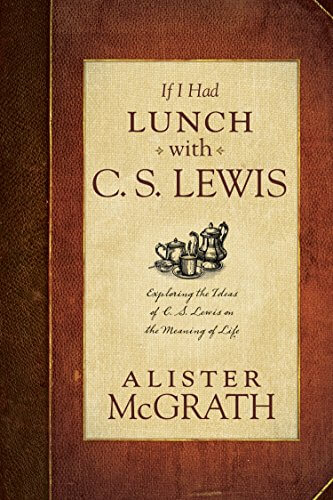 What we may already know about him is confirmed on the jacket of this book. A few lunches with Lewis would be interesting in the least… possibly eye-opening and heart-revealing.
… his mind traveled through a wide and varied terrain: from atheism of his early life to his conversion later in life; from his rational skepticism to his appreciation of value of human desires and imagination; from his role as a Christian apologist during World War II to his growth as a celebrated author of classic children's literature.

If I Had Lunch with C.S. Lewis by Allister McGrath
Who is Allister McGrath
McGrath like Lewis started out as an atheist. He wanted to go to college to study science and prove that God did not exist. He kept being pulled back to reading Lewis' works until, he too, could resist Christianity no longer. Before he knew it he had become quite a student of Lewis to the point of writing on him in several articles, books and even a biography of Lewis.
He states in this book (Lunch with Lewis) that he likely wouldn't want to ask questions as much as he would just like to thank him for his guidance all along the way.
A Synopsys of Lewis' Books
This book discusses many of the writings of Lewis in the form of answering questions posed. To this point, I had only read The Chronicles of Narnia, Mere Christianity, and Surprised by Joy. "Lunch with Lewis" gave me a great amount of information and interest in several other books. I found myself often making a note "to read this book". Indeed, I recall reading Mere Christianity and wondering to myself why I had waited so long to read it. Before I finished it, I was saying, "I must read this book again."
"Lunch with Lewis" prompted me to read more of C.S. Lewis. #bookreview
Click To Tweet
Questions Discussed in "Lunch with Lewis"
McGrath developed 8 different "lunches" with C.S. Lewis where he discusses different topics. Using the works of Lewis, McGrath shares what he believes Lewis would say to us about these topics.
on Friendship
Right off the bat, McGrath finds Lewis asking us more questions than we are asking him. But these questions are somewhat rhetorical, that is, they make us step back and think.
How are my friends influencing me? What task lies ahead of me that demands a community of support? How can I support my friends? Am I spending enough time and energy cultivating real friendships? And is friendship an end or a means—something good in itself or a good to be consumed?

page 52
Our Part in the Stories of Narnia
As you might expect, it takes more than one "lunch" to discuss Narnia. McGrath suggests that before we are even able to ask our questions about Narnia, Lewis would ask us, "Where do we fit in these stories?", and leaving us with this thought…
The story we believe we are in determines what we think about ourselves and consequently how we live. For Lewis, Christianity doesn't just make sense of things. It changes our stories. It invites us to enter into, and be part of, a new story.

Page: 78
Lewis as an Apologist
And what of finding the truth in Christianity? Many would say that C.S. Lewis was instrumental in bringing them to their faith. Lewis, also, credits other apologists for pointing the way for him. And so, Lewis challenges us to be apologists as well, so that, others may come to know God. We must find ways in our own era/culture that will connect with people in order to pass the faith along.
Christians can't just tell one another that their faith makes sense. They've got to get that message over to their culture at large.

Page: 125
Other Topics Covered
And there's more. More "lunches with Lewis" that I will leave for you to discover. To whet your appetite, let me just mention the topics of education, suffering, and the afterlife. All of these have excellent discussions you won't want to miss.
What of Our Own Legacy?
This book is more than just "cliff notes" on a book. Lewis, through McGrath, challenges us to think and re-think your faith. More than just your faith, you will begin to consider…
What difference are you making in the lives of others?
What memories are you leaving behind?
Has our influence changed lives?
Remembered by God
Yet Lewis himself might helpfully remind us at this point that the most important thing is that each of us, whether remembered by others or not, is remembered by God. And that's what really matters. Human history may forget about us, as it has forgotten so many. But our names are engraved on God's hands, and written in the Book of Life—a fitting, even inspiring, thought with which to end our series of lunches with Lewis.

Page: 208
I suggest that you go find a few C.S. Lewis books and read them. If you don't know where to start, start with "Lunch with Lewis". Perhaps it will guide you to where you want to begin.
Reading to Strengthen What I Believe;
I purchased this book and I am giving my own honest review on my own accord. *****
Written as part of our Summer of Legacies Series
Pastor's Wife (retired) &  Chronic Pain Warrior blogs about how to make it through anything by relating her own life experiences to her writing. She is passionate about her love for the Lord and desires to spread that passion to others. She has a great desire to encourage women who are following behind her.