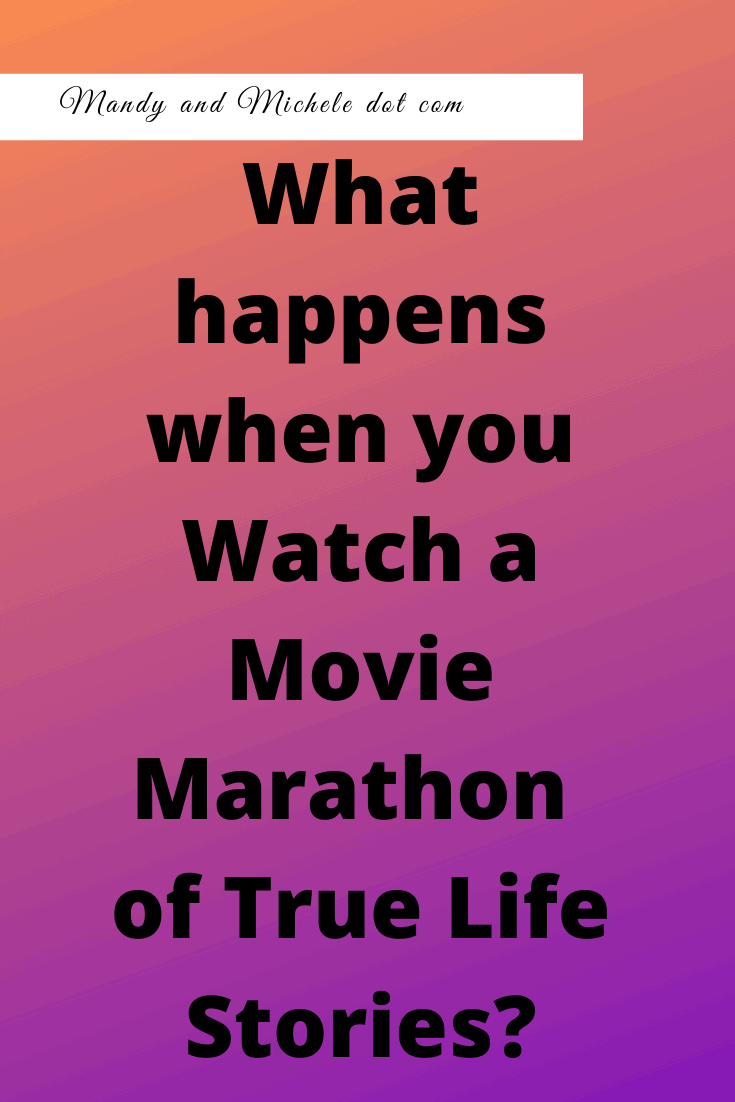 What happens when you decide to watch only true story movies?
You're emotions get all flummoxed.
I told my husband that I wanted to watch some movies based on true stories. Wow! He did some searching and we were on our way to a rollercoaster ride of emotions. I'll try to give a little overview.
Who doesn't love Mr. Rogers? And, of course, we love everything Tom Hanks has done. Sometimes you wonder if the person you see on TV is the same in person. IF you know Tom Hanks. you know he does his homework when he does a real-life movie. And "Neighborhood" was no different.
You might watch this and say, "This really wasn't about Mr. Rogers." It's true. Rogers wasn't the main character; the reporter was. But this movie showed the effect Mr. Rogers has on everyone he met. When you were in his presence, he was totally focused on you. One Hundred Percent.
Lessons Learned: I'd like people to say this about me.

We may earn a small commission for our endorsement, recommendation, testimonial, and/or link to any products or services from this website. Your purchase helps support our work in bringing you spiritual encouragement and other favorite product reviews. Thank you.
Tom Hanks stars in this Clint Eastwood movie. I actually remember when this pilot landed a disabled jet on the Hudson River. It was a pretty scary event as it came not long after the 911 event. New Yorkers felt a bit uneasy when a plane is flying out from its normal paths.
We often don't realize the effect it has on someone (and their family) to be thrown into the limelight basically for just doing their job. The side we didn't see was all the investigating going on in the background. While we were praising Mr. Sully for saving all the lives on his plane, the FAA was trying to blame him for not returning to the airport. It kind of opens your eyes to a lot.
Eastwood is another one that does his homework before making a movie. I appreciate that. He has done several of this caliber lately. Some have said that the movie was lackluster, but I will remind you that life is often lackluster. I like how it showed us the "other side" of fame.
Lessons Learned? Hmmm. Don't fly… anywhere? haha. Or maybe make sure you have everything in order every time you leave home. OR Things are not always as they seem.
After graduating from Emory University, top student and athlete Christopher McCandless abandons his possessions, gives his entire $24,000 savings account to charity and hitchhikes to Alaska to live in the wilderness. Even living as a "Bum" he actually did pretty well for himself. He moved here and there meeting people, establishing friendships.
But ultimately, he wanted to go to the wild of Alaska, so he would pick up and move on. He finally, made it to the remote parts of Alaska crossing the frozen Tundra: ALONE.
Lessons Learned: True happiness only comes when it is shared.
Here's one for the dog lovers. In the adventure film Togo, a team of sled dogs races across Alaska to deliver much-needed medicine. The film is inspired by a true event that took place in 1925.
It might sound familiar because there was a Disney movie made years earlier called "Balto". Here is the true story: A relay of 20 sled dog teams then traveled a distance of 674 miles from Nenana to Nome. Leonhard Seppala and his sled dog team led by Togo traveled 340 miles roundtrip to pick up the serum and start bringing it back, eventually handing it off to Charlie Olson's team. One of his dogs was named Balto.
Lessons Learned: You don't always get the reward you deserve. Don't sweat it. It's teamwork that counts.
Your Turn: Legacy Link Up
Any good lessons learned for leaving a legacy? Any good movies that teach values or lead to good discussions?
You are invited to the Inlinkz link party!
Pastor's Wife (retired) &  Chronic Pain Warrior blogs about how to make it through anything by relating her own life experiences to her writing. She is passionate about her love for the Lord and desires to spread that passion to others. She has a great desire to encourage women who are following behind her.