Write 31 days: Prompt: Belong
Praise God, I belong to Him. I am His child forevermore.
Hymn: I Belong to the King
Author: Ida L. Reed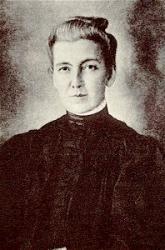 Ida Lilliard Reed, 1865-1951 Born: November 30, 1865, near Ar­den, Bar­bour Coun­ty, West Vir­gin­ia. Died: Ju­ly 8, 1951, Ar­den, West Vir­gin­ia. Buried: Eb­e­nez­er Meth­odi­st Church, Ar­den, West Vir­gin­ia. Reed is said to have writ­ten 2,000 hymns in her life­time. In 1939, the Amer­i­can So­ci­e­ty of Com­pos­ers, Au­thors and Pub­lish­ers re­cog­nized her "sub­stan­tial con­tri­bu­tion to Amer­i­can mu­sic" by award­ing her a small "week­ly bo­nus." © The Cyber Hymnal™ (www.hymntime.com/tch)
The Lyrics
1 I belong to the King, I'm a child of His love,
I shall dwell in His palace so fair;
For He tells of its bliss in yon heaven above,
And His children in splendor shall share.
Chorus:
I belong to the King, I'm a child of His love,
And he never forsaketh His own;
He will call me some day to His palace above,
I shall dwell by His glorified throne.
2 I belong to the King, and He loves me I know,
For His mercy and kindness, so free,
Are unceasingly mine wheresoever I go,
And my refuge unfailing is He. (Chorus)
3 I belong to the King, and His promise is sure,
That we all shall be gathered at last
In His kingdom above, by life's waters so pure,
When this life with its trials is past. (Chorus)
Source: Hymns of Faith #188
Praise the Lord, I belong to the King!
Other Hymn Favorites
Pastor's Wife (retired) &  Chronic Pain Warrior blogs about how to make it through anything by relating her own life experiences to her writing. She is passionate about her love for the Lord and desires to spread that passion to others. She has a great desire to encourage women who are following behind her.