It's easy to lose our joy in the world we live in.
Originally posted in ggmandy dot com on November 10, 2016

Just watch the news or even just look at your own life, your failures, your unfulfilled dreams, the junk that life is throwing at you, and boom! you've fallen into the pit of despair. But I believe that we have a choice whether we stay there in the muck or find joy in the moment. The apostle Paul wrote of that joy sitting in a prison in Philippi. (Philippians 1:3-7) So if he can do it .. we can do it! Right? 
But how can we have joy in adversity? 
That is the question. And that is what I have been searching for this year. Let me share a few steps I am learning to take …
1. Understand that joy and happiness are NOT the same things.
You can have both or you can have one but not the other. The difference is the source. Happiness is a result of some outside force. It is dependent on our "happenstance". We are happy because of what is "happening" to us. We are happy the day we graduate or get married or when we receive a gift. But joy is much different. It comes from inside of us. The scripture says … 
 The Lord is my strength and shield.

    I trust him with all my heart.

He helps me, and my heart is filled with joy.

    I burst out in songs of thanksgiving

Psalm 28:7 (NLT)
If you take a look at the context of this verse (as with many of the Psalms) you will find that David was crying out to God. His circumstances were anything but good. He had enemies all around him, yet .. he was "bursting out in songs of thanksgiving". Wow! Just knowing that the Lord was with him was enough to sustain him, to keep his joy.
Steps Toward Joy Through Adversity: Understand #Joy and #Happiness are NOT the same
Click To Tweet
2. Read a Psalm every day.
As I mentioned before, nearly every Psalm begins with distress, speaking out the trouble he was in; but before he gets done, he is praising the Lord. There is nothing better for us than having an example set before us and the Psalms are it. Read one every day and you will be reminded of how awesome our God is. How much He loves you.
3. Praise the Lord.
We were created for praise. God made us for this sole purpose.
Psalm 148 says " let every created being praise the Lord."
Praise opens the door of communication with God. And that is what He desires. Being in His presence, in communication with Him fills us with joy. If we start looking for something to praise the Lord for, we will find it. There is always something to praise him for. I am reminded of a song the Imperials sang many years ago. "Praise the Lord". It said,
'When you're up against a struggle that shatters all your dreams … Praise the Lord." Every word of this song is on target.

Praise the Lord by The Imperials
Let's go back to that prison in Philippi.
Paul and Silas began praising the Lord. What happened next? An earthquake opened the prison doors, broke their chains, and ultimately the prison guard and his family were saved. That's what happens when others see us being victorious in and through our struggles. We are always wanting God to take us out of the situation, but maybe God has placed us there to bring others to Him. 
4. Additionally, Give Joy to Others.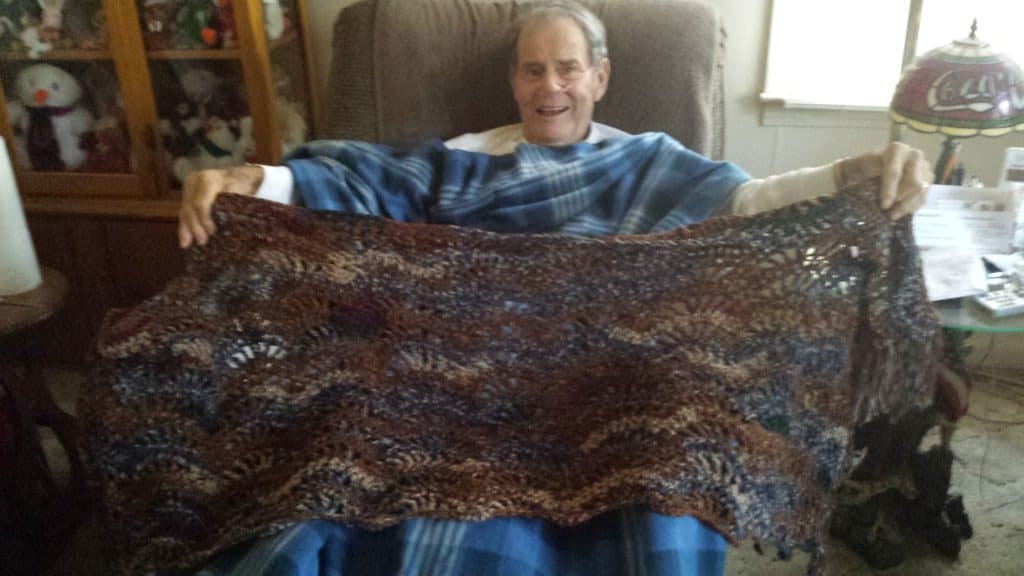 I recall when I was single and lived far from home and family. I would get lonesome and depressed. So I would call home. Mom told me time and again, to get out and do something for someone else and it would help. You see when you give joy to others it comes right back to you. It's one of those "reap what you sew" ideals. If we go around complaining and grumbling, we get grumbling and complaining in return. When we start doing for others and see the joy it gives them, guess what, we find that the joy rubs off on us! 
Since my health began to fail, I took up crocheting again. I learn to crochet way back in high school through the 4-H program. Never really got the hang of it. But I decided to give it a try once again. But I need a reason to crochet. So I started looking for who I could make something for. First there was a new baby, then a wedding. Then I decided I would make a shawl for all our shut-ins. That has kept me plenty busy. But here's the catch … the absolute best part. When I finish a shawl. I can hardly wait to give it away. I am beside myself while I watch them open the package and take out the gift. And it's not just a blessing that one moment. every time I see them, they speak again of how they love the shawl! And there it is .. abundant joy!
5. Finally, some practical advice …
A. Eat right. I know we don't like to hear it; however, our tendency when we get down is to go eat a bucket of ice cream! Come on , you know it's true. And I'm not saying that you can never eat ice cream. But do it with moderation. Slow down and eat a few bites. Be sure to enjoy it. And then get right back to eating right.
B. Get your vitamins. Most of us are vitamin and nutrient deficient. So eat those fruits and vegetables. Resist the grains, bread, sugary desserts. You may need to have your doctor check some of those vitamin levels, such as Vitamin Bs and D.
C. Spend some time outside EVERY day. Soak up some natural vitamin D. Take in God's beautiful world.
D. Do what your doctor says. Take you medications faithfully.
E. Exercise. (Did I have to mention that one?)  Sorry. But it can help you feel better!
Okay. I am #preachingtomyself here. But maybe you can come along for the ride and find your joy too! 
Pastor's Wife (retired) &  Chronic Pain Warrior blogs about how to make it through anything by relating her own life experiences to her writing. She is passionate about her love for the Lord and desires to spread that passion to others. She has a great desire to encourage women who are following behind her.