We tend to get this idea in our heads that Christian leaders have everything in perfect order; that they are always holding a good hand. We think that they have had a great Christian life and have never been tempted to sin or been through troubled times. But this is far from the truth. When we look through scripture we find that God oftentimes chooses the weak or the least expected to do mighty things for Him.
I have said many times that we need to have more times of testimony. Times when we share about our troubles and weakness. And then also to share how God has gone through the fire with us. How can others be encouraged or know that God is an amazing God when we aren't sharing these things?
As I picked up Phillip Yancey's memoir, Where the Light Fell, I found the story of his life heartbreaking. But I learned some things in my reading that I will share with you today.
---
We cannot let our past dictate our future.
Philip and Marshall Yancey, watched their father die when they were very young. They were raised by their mother and "aunt" whom they never felt they could please.
We all have our stories to tell. People have hurt us, often in terrible ways. Perhaps we were born into poverty or places full of drugs, alcohol, and crime. Maybe we were treated poorly by parents, family, or even leaders. But God has a plan in mind. Consider Joseph when he told his brothers,
"You meant it for evil, but God meant it for good."

Joseph, Genesis 50:20
God is ready to take whatever life has dealt you and turn it into something good. Your experiences can make you empathetic toward others who have gone through the same things. Trust me, they are out there looking for someone that can lead the way out. You may be that person.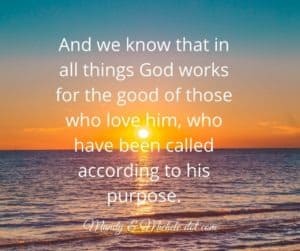 BEFORE WE CONTINUE
I would like to leave a note here… I'm a seasoned Christian. I have learned to handle life's challenges with God's help. This does not mean that we don't need occasional help from specialists, therapists that can help us through all the junk life has thrown at us. If you are struggling with depressions or having thoughts of suicide, please reach out for some help. Talk with a counselor or reach out to the suicide prevention hotline. They are there for you.
Test the Spirits.
Mrs. Marshall was heartbroken. She and her husband had plans to be missionaries, but when he contracted polio they followed the teachings and encouragement of the church leaders to reject treatment in the iron lung because God would heal him. He died two months later.
She continued following the instructions of this very conservative church to raise her children. And her harshness was hard for the boys to bear. Scriptures tell us to test the spirits. You would think, one could always trust what the church is telling you. But there are leaders and churches who are leading so many astray. We must vigilantly read the scriptures and pray for God's guidance.
Dear friends, do not believe every spirit but test the spirits to see whether they are from God because many false prophets have gone out into the world. 1 John 4:1
On the otherhand, parents are doing the best they know in raising their children. Maybe we should give them a break.
Philip and his brother, Marshall were treated harshly by their mother. Disappointments in her life caused her to struggle all through life. Though she took direction from the church, it wasn't always great advice. She was doing all she knew to do to raise her boys right but her frustrations came out as dissatisfaction and faultfinding toward her boys.
I know in my own life as I have grown and looked back, I can now see what was going on with my parents at times. I can see that what they said was not really directed at me. Sometimes, it was purely my own perception of the situation that was wrong.
When we realize this we need to have a little compassion. As we become parents ourselves, these realizations may come to fruition. When it does, this is the time to let go of the hurt and hatred so that relationships can be repaired.
Forgiveness is always the first step; and the sooner, the better.
It doesn't really matter if a person comes and apologizes, we must forgive them. Otherwise, it will eat away at the soul. Unforgiveness does nothing to the instigator. It only drives you deeper into an unfulfilled life. (depression, anger, sin, and other things). Remember, Christ: He was wrongly accused, beaten, crucified, spit on. But what did he says from the cross before He died?
Forgive them, for they know not what they do.

Jesus, Luke 23:34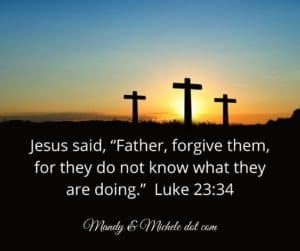 Remember the parable Jesus shared about the Unmerciful Servant. We have been forgiven so much, so we ought to also forgive those who sin against us.
35 "This is how my heavenly Father will treat each of you unless you forgive your brother or sister from your heart." Matthew 18
While our lives can have a direct influence on our children. It is still their own responsibility to find God and follow Him.
Parents, we need to examine our hearts as well. If we are getting out of control, it's time to take a step back. Keep our mouths closed and stop from striking out. We do need to be willing to apologize to our children when we have been too harsh. Kids are resilient. And when we are willing to apologize, we will find that the situation is over and forgotten. But if these things keep happening, a child will retreat further and further. They will have difficulty finding it in their heart to forgive.
Though it is true that each child must come to God on his own, we can certainly create for them a more direct path to God. We need to do what we can to display the character of God before our children. We do have that responsibility,
Parents, don't provoke your children to wrath.

Ephesians 6:4
And Proverbs 22:6…
Rather, Let's Hit our Knees in the Prayer Closet.
I just cracked open Hope McCardy's book, 31 days of Praying God's Wisdom for My Husband. In the first chapter, she shares how she was praying for success for her husband. She would constantly share her prayers with her husband. But he finally shared that this was causing extra stress on him. She learned that some prayers need to be silent prayers and kept in her prayer closet. She shared two principles that have been confirmed in her after decades of praying for her husband.
1. It is my responsibility to pray and pray and pray some more.

2. It is God's responsibility to answer in His own time and in His own soveriegn way, and even when the answer is not to my liking, my trust must be in God and Him alone.

Hope McCrady, 31 Days of Praying God's Wisdom for My Husband.
These truths apply to our children as well. I saw that the Yancey boys had a mother that wanted them to be missionaries since she didn't get the chance. Then she began to push so hard. They weren't able to live up to the task. So they questioned God and ran away from Him. Mrs. Marshal might have seen different results if she had gone into her prayer closet and prayed silently for her boys. (Remember The War Room Movie?)
Questioning is Not Always Wrong
Philip Yancey was always questioning his faith. What is Real? What is really a sin? He tested his teachers and mother at every turn. But in His questioning, he found the truth. He found a faith that he could grab onto and believe in. Not only that, he has been able to answer many questioning people through his books. His life and questioning of it gave him the knowledge to explain the truth to others that possibly, we who have always accepted the faith of our families cannot. Just take note of some of his book titles.
What's So Amazing About Grace?
Prayer: Does it Make a Difference?
The Scandal of Forgiveness: Grace Put to the Test
WHY? The Question That Never Goes Away
Reaching for the Invisible God: What Can We Expect to Find?
---
Pastor's Wife (retired) &  Chronic Pain Warrior blogs about how to make it through anything by relating her own life experiences to her writing. She is passionate about her love for the Lord and desires to spread that passion to others. She has a great desire to encourage women who are following behind her.