In last week's cliff-hanging article, I left Brad and perhaps you a little bored of my dishwasher adventure. But I feel that someday, someone is going to run into the same problem, and here I will be with my dishwasher victory article, and that person will find victory as well!
In case you are just diving into this article, you should back-track and catch up on "Dishwasher Victory". If you are short on time, I will give you the "Cliff Note" version:
I had a greasy, moldy scum growing in my dishwasher, dishes were not getting clean
Took my dishwasher apart so many times cleaning out the scum, I nearly wrecked my dishwasher
Found an article from Jill Cataldo; her dishes weren't getting clean either, and discovered it was because enviromentalism took the phosphate out of the dish and laundry detergent
Happiness! I discover that a dishwasher detergent with phosphates still existed- Cascade® Professional Fryer Boil Out. YAY!
Cascade of phosphorous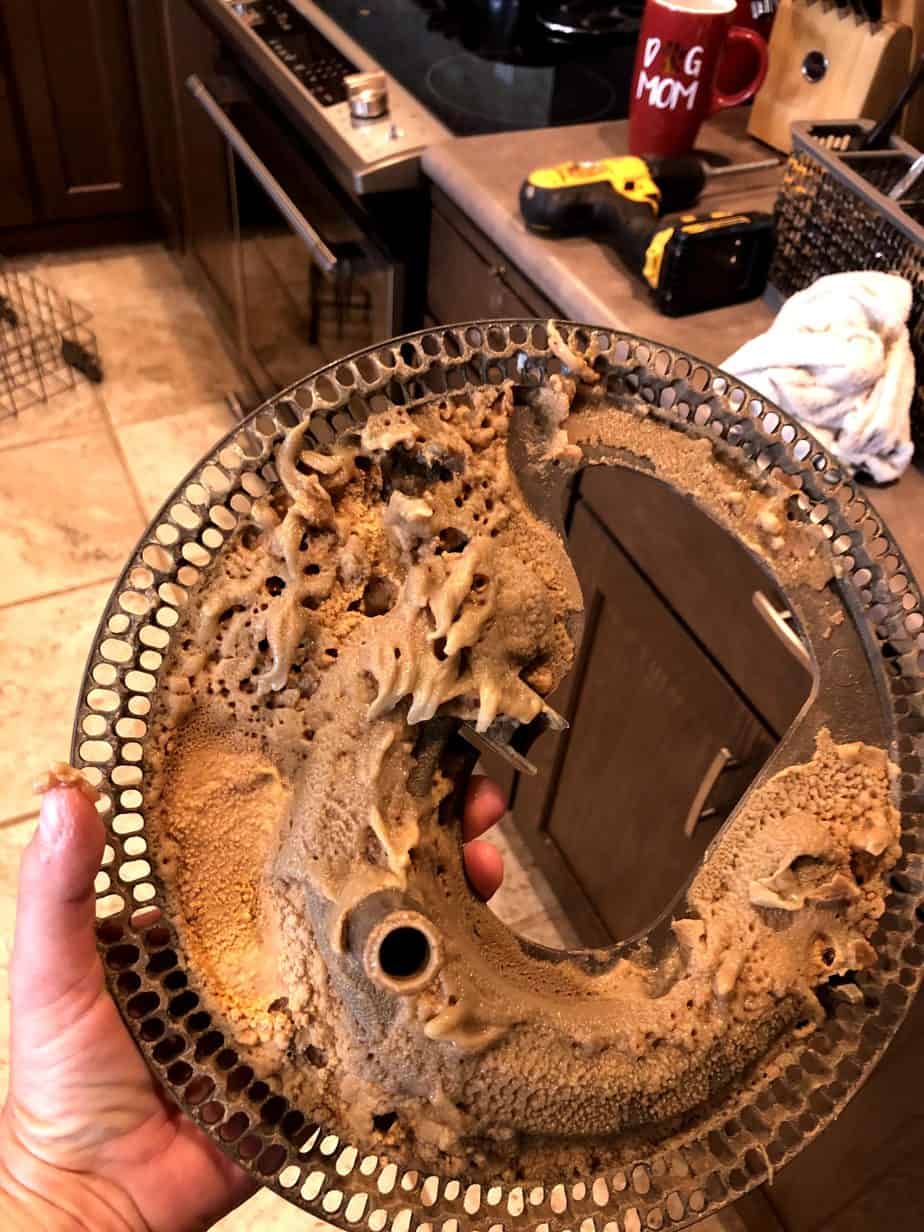 After finding the Cascade® Professional Fryer Boil Out online, I did order a box. But, I wasn't satisfied waiting 7 days. I needed help now! The article by Jill Cataldo mentioned other dishwashing treatments/boosters that had phosphorous in them. One of them mention was Finish Glass Magic®, a performance booster- NOT a dishwashing detergent.
I found a box of Finish Glass Magic®, 16 oz. for $9.96; which you needed to use a 1/4 cup (4 tbsp.) with each load. IN ADDITION, you had to use a dishwashing detergent, as well as a rinse agent for "optimal results". Ugh! This box will be used up fast.
The Dutch girl in me calculated the math, and this Finish Glass Magic was very expensive. Going against all logic, I went ahead and bought the box.
I got home and added my current detergent to an empty dishwasher. Then I added the Finish Glass Magic® to the bottom of the dishwasher, punched in the cycle, shut the door, and awaited success.
Sometimes you gotta spend big for big results
Three hours later, the cycle finished, I could hardly contain myself when I opened the door. OM! That smell! I haven't smelled that for years. That smells like the old dishwasher that I replaced. AHH! And, the SPARKLE! The stainless steel was just beaming. I about cried.
Wanting to see if I could get the same results with dishes I took all the dishes and silverware off the counter and loaded them into the dishwasher. Repeated the same procedure of dishwashing detergent, Finish Glass Magic® in the bottom, punched in the same program, pressed start, and shut the door.
With the cycle finished, I peeked in. There were no greasy areas with pinkish, greasy slime on the ceiling of the dishwasher. YAY!, No funny film on the plastic kid dishes, or funny smell. YAY! No brownish scum on the silverware basket. YAY!
I was so excited about the results I called a few friends just to share my joy. I could hardly wait till the Cascade® Professional Fryer Boil Out arrived. Tick tock!
UPS to the rescue
I'm sure the UPS guy didn't know what joy my package contained. As soon as I saw that the detergent was en route, I began counting down the minutes till 11 am, when he usually stops by.
I heard his truck pull up the driveway and I was in a dead run for the front door. Opened the front door, stepped out onto the front porch, down the stairs, and like a faithful dog, waited patiently at the bottom step.
I guess if I had a tail, it would have been wagging so hard it would have dusted off the steps. Within a minute the UPS guy appeared. I smiled, reached out for the box, said thanks, and shot back into the house. Wah hoo! This was it. The Cascade® Professional Fryer Boil Out, 5 lbs. 5 oz. of phosphate-loving detergent, for $19.95. YES! This should hold me for a while!
That evening, with my dishwasher full of dirty dishes, I filled the dishwasher detergent reservoir, programed my favorite cycle in, hit start, and shut the door. I'd have to wait till the morning to see what success I would discover.
Dishwasher dazzel
I woke up the next morning and shuffled off to the kitchen to make coffee. While making coffee I remembered that I forgot about the dishwasher. I spun around and opened the door.
Unbelievable! What gleaming dishes, and dishwasher insides. Sparkling silverware that didn't smell. I peeked into all the favorite scum haunts and found not a single smear of grunge. I smelled the drain; nope- no sulfur bacteria smelling smell. Success! I WON!
If that Cascade® could clean up my dishwasher, it'd clean up my washing machine as well. So off to the laundry to take care of the sulfur smell in the washing machine. I ran a cleaning cycle without laundry; just water and 1/4 cup Cascade® Professional Fry Boil Out. WOW! Smell gone! Another win!
Maybe you don't have the dishwasher problem I did, but it sure wouldn't hurt to buy some Cascade® Professional Fryer Boil Out or Finish Glass Magic® and use it as a monthly or bi-monthly cleaning regime to keep your dishwasher and washer in good cleaning condition.
Till next time. Here is to good food, clean dishes, and joy in life's little victories!
Michele Bruxvoort is sure to draw you in with her delightful sense of humor and love for living life.   She enjoys reading, repurposing,  as well as remodeling the family home with her husband. Drawing from her life experience as wife, mom, and follower of Jesus, Michele brings you a very honest and real perspective on life.  When you don't find her writing, you can find her mowing lawns, stocking shelves, taking care of her grandbaby and tackling her latest life adventure.
Wisconsin native and empty-nester, she now makes her home with her husband of 27 years in the South West Prairie plains of Minnesota.