Bonjour my friends! Today I am on my way to Strawberry Galette. And lucky you! You are going to join me on this little food adventure. So buckle up and enjoy the ride. Here, hold the whipping cream, and don't spill it, we are going to need it later!
Strawberry Galette. I found a great recipe for strawberry galette in the 2021 April/May edition of Cooks Country. Seriously friends, if you can get a subscription coupon for 40% off this is an excellent magazine to put some spark into your cooking and baking! Give it a try.
Matthew Fairman was the recipe author and article writer of the "Strawberry Galette" article. I would have like to have given you a link to the recipe as it is copyrighted, BUT… not only do you have to pay for the magazine subscription, but in order to access it online, you must pay for that too. Sniff, sniff… so sorry. But I will link you to another recipe close to it that you can use with great success!
What is a galette?
"What in the world is a galette?", so glad you asked me! First and foremost it is French. Oo la la! A galette is pronounced gǝ-let'. Be sure to practice that well and get some Parisian hat and wear that to coffee. They will be talking a great deal about the new you… or at least your "look" and snooty dialect.
A galette is a flat French pastry made of pastry dough or bread. It can take on many forms from a thin pancake-like galette to a thick pie-looking galette. The fillings can range from fruit-filled to meat, but the galette is mostly known for being served around the celebration of Epiphany. Epiphany commemorates Jesus's birth and his meeting with the three wise men. The galette has traveled the world and Mardi Gras has adopted it as their "King Cake".
Here we go
I thought that the recipe from Cook's Country was relatively simple, and I like simple. That's why I thought I'd give the recipe a try. I will enclose a link to a Land O' Lakes® here. It was relatively close to the Cook's Country. Remember I told you to hold the whipping cream? If you haven't spilled it, make some Tangy Whipped Cream here. That's to put on top after the galette has baked and cooled. YUMMY!
The pastry dough was fun and simple to make. I like dough recipes. For most dough recipes, you get to take out your frustrations on the dough by kneading and smooshing. It's like physical therapy and counseling all in one. You get to talk and squeeze the daylights out of dough instead of the person or situation. Plus, you'll stay out of jail and that's always a good deal! This recipe called for a food processor to help "process" your ingredients, which was fun as well. My grandson found it entertaining but a bit loud.
The filling was simple as well. The Cook's Country recipe had you cut up your strawberries, add some sugar, and let them sit. This sitting allowed time for the berries to make a juice which you will use to make the filling. The Land O' Lakes recipe did not do this. The Land O' Lakes had you make the filling by boiling the ingredients and Cook's Country has you throwing the filling ingredients together into the pastry dough and letting the oven do the thickening.
End results?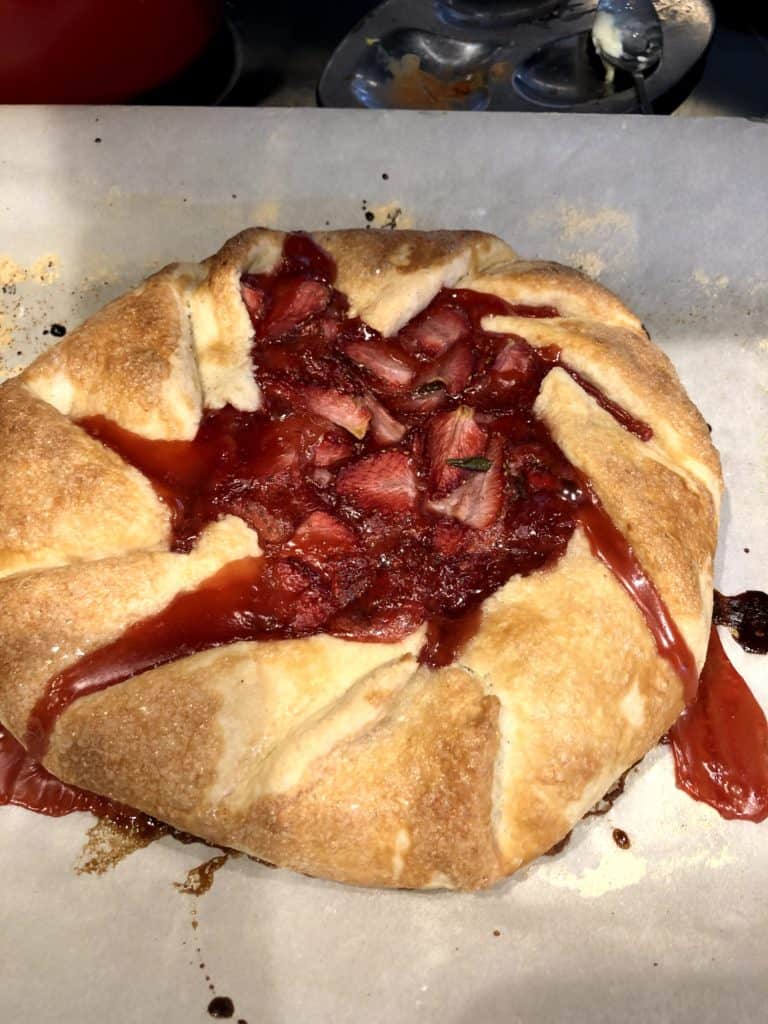 While the galette was baking it smelled delicious, but thinking about warm strawberries was hard to get past. I'm used to cold strawberries on Angel Food, ice cream, hot shortcake, and so on. This probably led to me disliking the taste of the galette filling. However I had to remind myself that my American taste buds are set for sugary sweet and this galette is NOT so sweet, and that is very okay. We all need to cut back our sweets anyway.
After cooling the galette I tasted a slice. I liked the flaky crust, and the filling wasn't sugary or overly thick; almost jam-like consistency. The whipped cream added a tangy spark. I like the galette even better the next day, cold from the refrigerator. It was something very different from my "Midwest usual" and I would try it again. Maybe a rhubarb galette!
Till next time! Here is to good food, good friends and a good life.